We're

Tri Petch

IT Solutions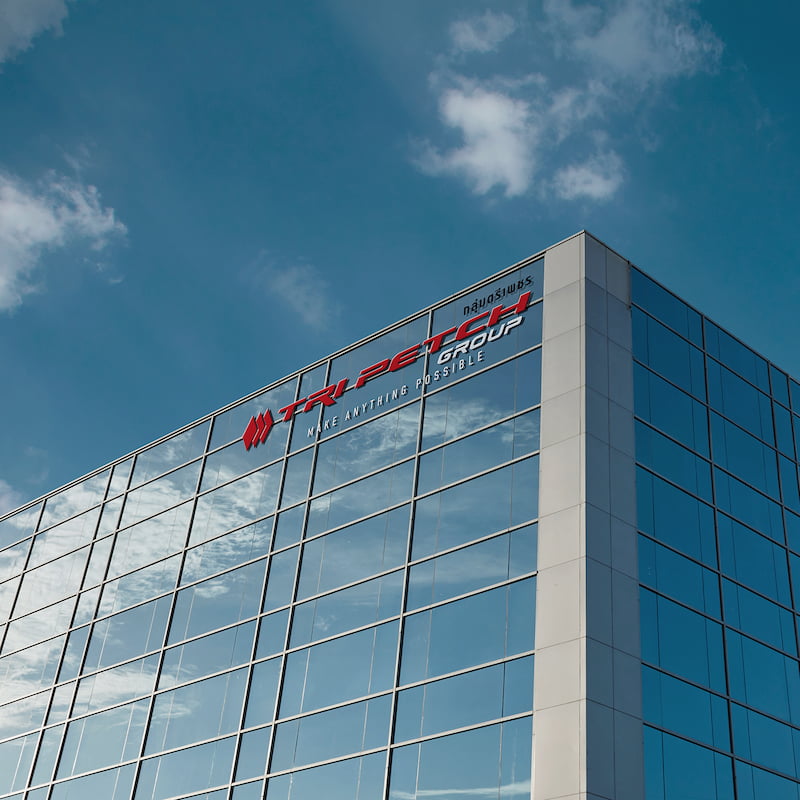 TPIT Mission
Drive Tri Petch Group's competitiveness with
IT & Digital

Technologies by cultivating innovative culture and excellent talents
Truck2Hand

The online business which develops and operates the used trucks and machinery e-commerce activities to offer the best online marketplace experiences to users.
my-Isuzu

The application for Isuzu vehicle owners with over 900,000 users with the goal to serve the utmost user satisfaction covering from their car usage cycle to lifestyle to provide "The Better Life with my-Isuzu".
Vehicle Management System

Comprehensive solutions for the business operation efficiency of vehicle management with the prominent technologies-SAP, Fiori UI5 Framework.
Dealer Management System

The centralized system for all nationwide ISUZU dealers is inclusively designed for dealer operation on real-time interface (HTML5, API Technology) facilitating with data analytic on Power BI.
Everyday passion to work

The motivation to work everyday here is the enjoyment from working with the challenges & opportunities. This company has equipped us with a fast and flexible working style where any ideas or proposals are welcome to encourage the exploration of new capabilities from any assignments.
Innovation & Teamwork

To work in the "Innovative & Being Team Spirit" working environment, empowers our business to be competitive in the digital businesses. We strongly believe in "The Results-Centered Teamwork" concept which allows endless creativity to our digital products and work processes.
TPIT People & Lifestyle
"I have the vision to nurture the environment where all digital talents feel ownership and reinforce value to themselves while delivering the business impact through digital technologies."
Haruku Ishikawa
Digital Innovation Division Manager
"I enjoy working in a large-scale IT organization with clear career growth. The company granted me the great chance to visit Silicon Valley where I had the valuable experience from many technologies and innovations."
Nopporn Suksodkhiow
Principal System Engineer
"People at TPIT are always open-minded and do care about others, whether they are customers or colleagues. Consequently, the working atmosphere is overwhelming with the "Fun & Delight" for the people who work with pleasure like me."
Sarun Kokpol
Principal Software Engineer
"I have always found my excitement from the challenges of innovation. The remarkable experience was to attend "SAPPHIRE NOW" in USA. I appreciated the encouragement from the company to grant this meaningful opportunity."
Nuttachart Soontornthai
SAP Technical Lead (ABAP)
"My motivation for working here is the opportunities to learn and discover new things. The coming new ideas will be carried out with the character of the great team, support and enjoyment."
"I am proud to be a part of the company which is large but flexible. I can feel the strong startup culture reflecting from the working environment and working style."
Boripach Khuhaprema
Digital Software Engineer
Software Engineer / Developer
Frontend Developer: HTML, CSS, JavaScript, TypeScript, ReactJs, NextJs, VueJs
Backend Developer: JavaScript, TypeScript, NodeJs, NestJs, Java/Kotlin Spring Boot, GoLang
Full-Stacks Developer: Frontend and Backend Website Developer, Database design, Unit Test, DevOps, CI/CD
Mobile App Developer: iOS Swift, Android Kotlin, React Native, Flutter
SAP Functional and ABAPer
RPA UI Path
AS/400 Developer
Create test cases, UAT / E2E Manual Testing, Integration Testing, Regression Testing, Load Testing, Vulnerability & Security Testing
Automation Testing (website and mobile) - Selenium, Appium, Cypress, Robot Framwork, BrowserStack, LambdaTest
Cloud Architect /
Cloud Expert
AWS, GCP, Azure, Cloudflare
Cloud Architecture, Deploy Solutions, API Gateway, Networking, Security
RDS, ElasticSearch, EC2, ECS, S3, Lambda, Docker, Redis, SNS, SQS, Cloudfront, Kafka, Kubernetes, Terraform
User Research, Design Thinking
Wireframing, Prototyping, User Flows, Artwork Advertising, Corporate Identity
User Interface and Interaction Design (website and mobile)
Data Lake, Data Warehouse, Data integration & ETL tools, Data Pipeline
Hortonworks, Cloudera, Kafka, Redshift, AWS S3, SQL, NoSQL, Embulk, Logstash
Hadoop, BigQuery, Big Data Stacks
Data Security & Privacy
Data Analyst /
Data Scientist
Data Analytics, Data Mining, Machine Learning, Predictive Analytics
Treasure Data, Paste, Hive, SQL, MapReduce, Spark
SAS, Power BI, Cognos
IT Infrastructure /
IT Governance
System Engineer, System Operation
IT Security, IT Audit
PC Support, Networking Support, IT Support